Arguably our most exciting package yet! This trip is designed for aspiring scientists, adventure conservationists, and naturalists that may or may not have a science background. Learn from our expert marine biologists working along the coastline while exploring some of the most amazing, untouched areas of Southern Africa!
Start your journey at our base in Zavora, Mozambique where you will spend two weeks (including a field trip to Tofo) learning from our marine biologists and expedition leaders. We will then make our way down the coast to Ponta D'Ouro marine reserve. Here, we will spend a few days diving and looking for sharks at the renowned dive site "Pinnacles." After Ponta, we cross the border into South Africa where we will spend a few days in Sodwana Bay. This is where you will obtain your Adventure Freediver I certification which will help prepare you for the adventure ahead. Our next stop is Cape Vidal. An untouched wilderness hardly explored by divers. Here, we will be exploration diving (freediving) and contributing to important research in this area. We will be on the lookout for manta rays, devil rays, sharks, and other megafauna species.
During our time in Cape Vidal, we will also spend one day in Hluhluwe–iMfolozi Park on a Big 5 African Safari where we will be looking for elephant, rhino, buffalo, lions, and leopards.
Next stop, the famous Aliwal Shoal! We will spend a couple days freediving and scuba diving helping PhD Candidate Michelle Carpenter with her research, whilst also exploring some of the most world-renowned dive sites. Those not joining us for the sardine run will end their journey here and we will say our goodbyes at the Durban International Airport.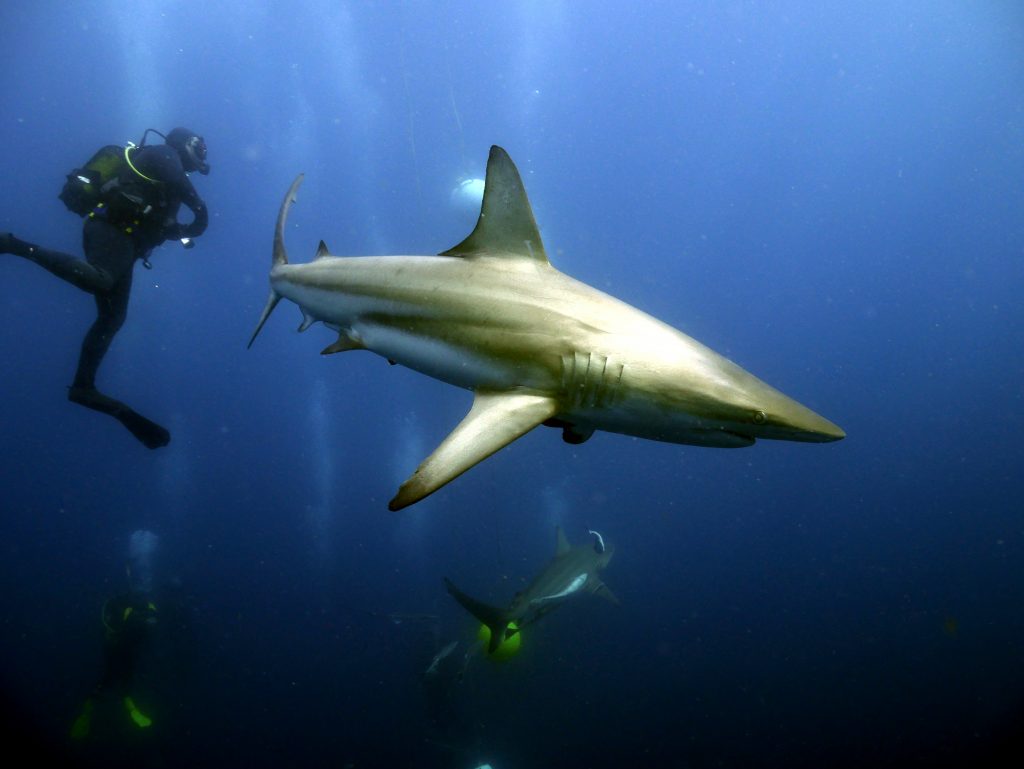 For the rest of us, our last stop is the SARDINE RUN, also known as "The Greatest Shoal on Earth." The phenomenon takes place from May to August when millions of sardine's spawn in the cool waters of the Agulhas Bank and move northward along the east coast of South Africa. This creates a feeding frenzy along the coastline that has captured people from far and wide. Expect to see dolphins, gannets, seals, backtip sharks, dusky sharks, and Bryde's whales, amongst others. You may also get the occasional humpback whale or manta ray popping in to say hello! This is truly a once in a lifetime experience and we are offering you the unique opportunity to join researchers on board as they collect important data on this amazing phenomenon. We will be participating in the sardine run for 7 nights/6 days.
What you can expect to learn on this trip of a lifetime:
Comprehensive knowledge on sharks, rays, fish, and invertebrates
Proper protocol and photo-identification of megafauna, including:
Whale watching and humpback whale fluke ID
Nudibranch identification and species cataloging
Participation in community activities including:
Learn to Freedive (Adventure Freediver I)
Participation in exploration diving and research
How to interact with different animals